Effective, evidence-based
preventive care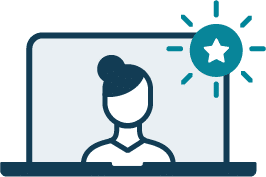 High-quality,
vetted, coaches
Flexible care that meets every member where they are
Lyra offers a complete suite of preventive mental health care
Guided Self-Care
Convenient, at your own pace, with access to a dedicated Lyra Coach. Members start with a one-on-one coaching consultation and then are given a personalized six week care plan crafted by their Lyra Coach with self-led video lessons and tailored activities.
Same-day face-to-face video consultations available
6 week personalized self-led care plan
Ongoing messaging with the same coach keep members motivated
Mental Health Coaching
Flexible, weekly, sessions with a dedicated Lyra Coach. Members meet with a Lyra Coach for up to six sessions anywhere, at home, or on the go, via live messaging or video sessions.
Effective, cost efficient therapy alternative for mild symptoms
Structured video lessons and activities between session support encourages long-term growth
When privacy is hard to find, live messaging sessions are available
Members can switch between live messaging and video sessions
Mental Wellness Tools
Unlimited access to apps members know and love like Calm and MyStrength. Mental wellness tools are integrated into Lyra's Care Recommendation Algorithm for easy navigation.



"Connecting with a compassionate professional during this time of intense stress and anxiety has helped me reframe my life during the pandemic. I'm so grateful to my coach!"
85%
of members in mental health coaching improve wellbeing on validated clinical measures
Validated, published, and proven to work
Lyra Mental Health Coaching has been proven highly effective at improving stress and wellbeing in a 3rd party published and validated study. The study examines real Lyra members working with Lyra coaches and the Lyra digital care platform.
See the results
97%
would recommend
coaching to a friend
or colleague
Only 3%
of coaches pass Lyra's
extensive vetting process
100%
of Lyra's coaches are ICF
accredited and practice
Cognitive Behavioral
Coaching
Not your typical wellness coaches
Lindsay, Coach
Leverages action-oriented
communication to ease anxiety,
stress, and burnout
Chad, Coach
Trained in evidence-based
psychology, with an ICF
Certification
Azmeena, Coach
Provides non-judgmental
coaching and accountability for
lasting transformation
Learn more about our coaching at Lyra
Coaching can mean different things to different people. Explore how Lyra's cognitive behavioral coaching approach goes above and beyond what members expect.
Mental health insights
Find best practices to benefits leaders and practical advice for your emotional well -being
Read our blog
Benefits Professional
Presenteeism: The Hidden Productivity Killer in Your Workplace
Read more
Benefits Professional
The Lack of Evidence-Based Therapies in Health Plan Networks
Read more
Triaging to the right care
Lyra's clinical assessment ensures that members with severe symptoms are recommended therapy or medication management, not coaching. A few examples of members screened out of mild care offerings include:

14% that indicate active/passive suicidal ideation or self-harm
6.8% that are likely experiencing alcohol use disorder
7.4% that screen positive for PTSD
Explore the member experience
Preventive care, part one of a comprehensive solution
Learn more about Lyra's complete comprehensive mental health solution and how Lyra can support members across the spectrum of need.
See the complete solution