Match members to the right care from the start
In just a few clicks, members find care quickly and easily, guiding them to the most clinically appropriate treatment to help them get better, faster.
From preventative to severe, we cover the full spectrum of needs
Guided Self-Care
Convenient, at your own pace care, with access to a dedicated Lyra coach. Members start with a coach consultation and then get a six week care plan crafted by their Lyra coach with self-led video lessons and tailored activities.
Consistent Coach keeps members motivated and engaged 
Same-day consultations available
Trust is built quickly by starting with face-to-face video session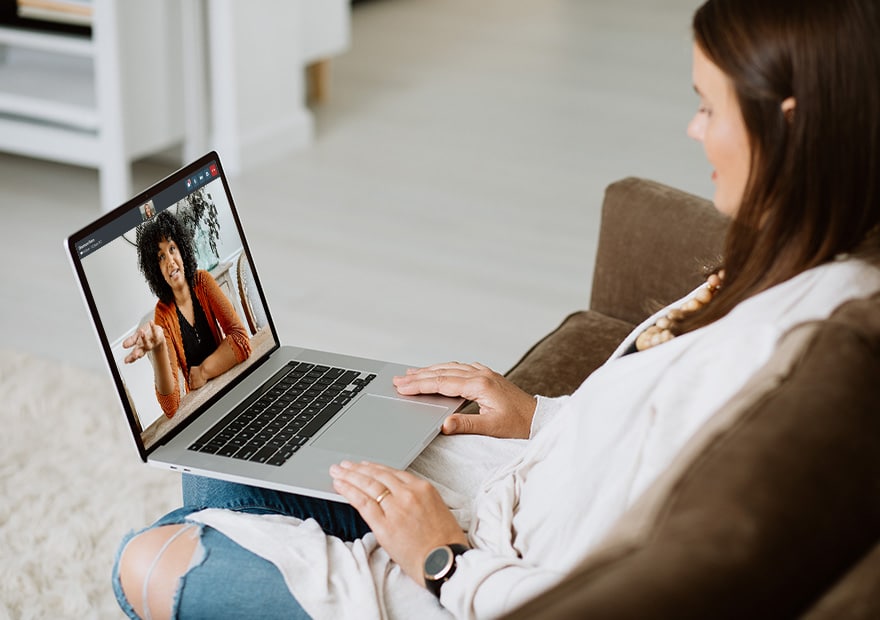 Lyra Coaching
Short-term support offered by top-tier certified coaches, specialized in mental health coaching designed by Lyra clinicians and grounded in principles of effective evidence-based therapies.
Short-term support for mild needs such as stress, relationships, and life transitions
Available via live messaging or live video
Lyra Therapy
High-quality providers, traditionally found out-of-network, thoroughly vetted for using only evidence based treatments such as Cognitive Behavioral Therapy (CBT) and Dialectical Behavioral Therapy (DBT).
Wide range of treatments for the clinical needs of children, adults, couples, families
Available in-person, via live video, or onsite at employers' offices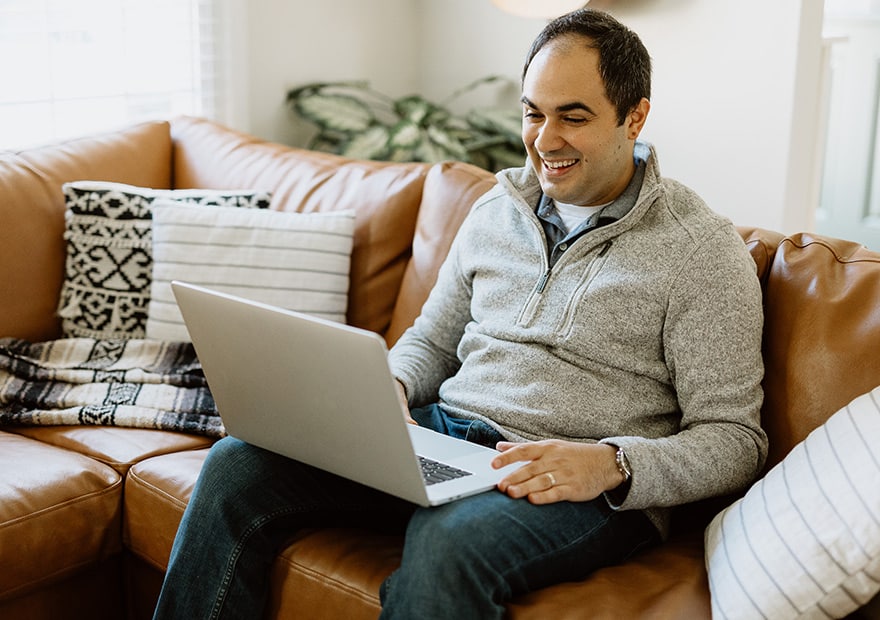 Lyra Medication
Evidence-based prescribing practices offered by physicians focused on mental health. Treatment is available via live video for adults with clinical needs such as depression, anxiety or bipolar disorder.
Ongoing symptom tracking to mitigate medication side effects
Directly message physician for questions or concerns
Combine treatment with therapy to learn and build new skills
Available in-person care for adolescents and those who need controlled substances
Mental Wellness Tools
Unlimited access to apps members know and love like Calm and MyStrength. Integrated into Lyra's Care Recommendation Algorithm for easy navigation.
Wide range of exercises and lessons for mild and clinical needs
Complementary to other Lyra care options
Access to life-changing treatment
Care for the whole family
Children under 13, teens, couples, and families too
No matter what they're facing
Full spectrum support from stress to suicidality
Widest range of care modalities
In-person, video, live messaging, telephone, onsite
Plus: digital exercises, video lessons, and between session support
Lyra Facts
Lyra's network includes 2,000+ providers who specialize in supporting children and adolescents
Care that extends beyond 1-1 sessions
Our unique approach blends together one-on-one video sessions and personalized digital activities to support members in their everyday lives. By enhancing the care experience with ongoing support between sessions, members can improve or recover faster than traditional in-person care.
1-1 messaging with your provider
Personalized CBT-based lessons and feedback
Ongoing progress monitoring by provider
Adapt treatment plan to daily challenges
Lyra Facts
Our blended care approach is over 3X more effective than traditional health plans
Explore the member experience
Mental health care for the complete spectrum of needs
Mental health care for every scenario
We offer effective care programs designed by Lyra clinical experts and grounded in evidence-based practices that are proven to work.
Care Services
Mental Wellness Tools
Guided Self-Care
Mental Health Coaching
Mental Health Therapy
Mental Health Medication Management
Critical Incident Support
Training & Workshops
Unlimited Manager Consultations
Onsite Therapy
24/7 clinical support when members need it most
The Lyra care team is available around-the-clock when members have questions, or when they are in critical, urgent need.
Lyra Facts
10% of members who register with Lyra experience thoughts of suicide or self-harm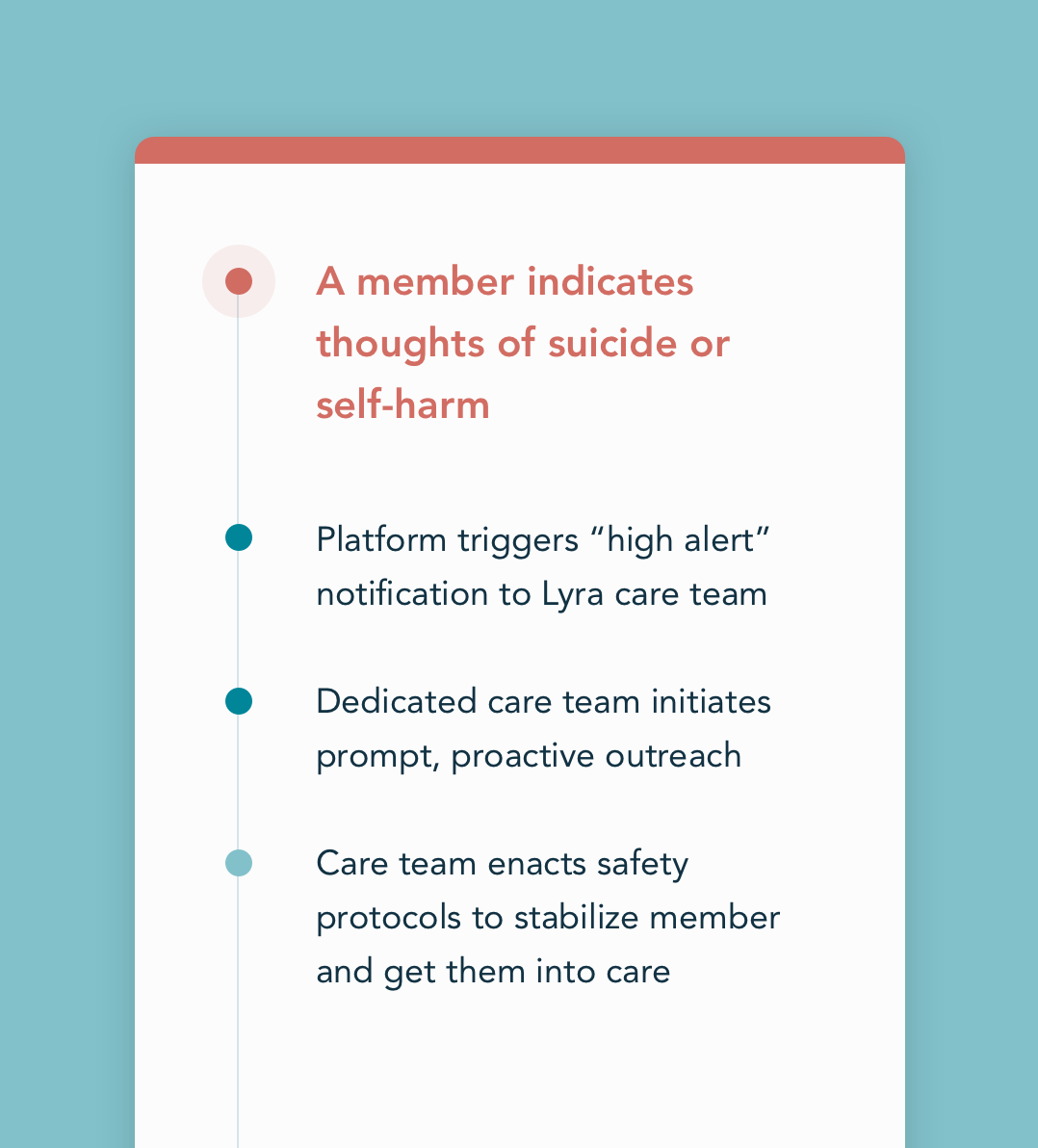 "Across our industry, given the greater likelihood of depression, anxiety, stress and substance abuse, employers must do more to help our employees manage their mental health. By partnering with Lyra Health, our employees now have a reliable resource to turn to for fast access to high-quality care from the best coach or therapist."